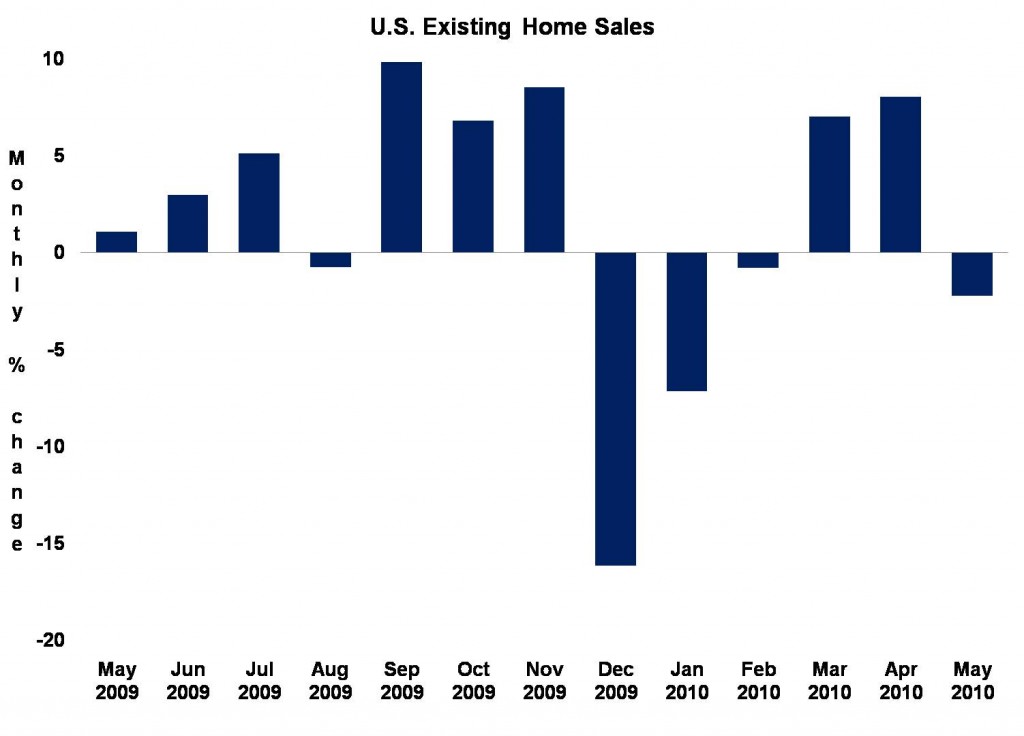 Data from the National Association of Realtors shows that existing homes sales in the United States fell 2.2 percent from April to May.  The seasonally adjusted annual rate fell from 5.79 million to 5.66 million.  According to Briefing.com, the consensus estimate for May was 6.10 million existing home sales.  In other words, learned economists and real estate professionals believed that existing home sales would increase when the homebuyer's tax credit expired.
A quick look at historical data indicates that home sales were likely to fall when the tax credits expired.  This phenomenon occurred at the end of 2009 when the original tax credits expired.  Home sales declined 16.2 percent from November to December 2009.
Should we view this data as discouraging?  The answer is no.  The best way to view the fall in existing homes sales is to recognize that the prior month data were artificially higher due to the tax credits.  When we compare year-over-year we find that homes increased 19.2 percent during May.
The increase in year-over-year home sales is encouraging.  But we must not get ahead of ourselves.  Considerable weaknesses remain in the housing market.  Foreclosures and notices of default are well above their historical average.  Credit remains tight while lending standards have increased significantly.  Poor labor market conditions are not conducive to home buying.
We do believe that the housing market is improving.  However, we also believe that it is going to be a long, slow recovery.  Do not expect prices and sales to rise significantly in the near future.  Gains will be made but they are likely to be modest.